They Say, We Say: "Why doesn't APN support calls to cut aid to Israel?"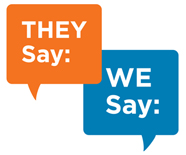 We know that pro-Israel does not mean blindly supporting policies that are irrational, reckless, and counter-productive. Pro-Israel means supporting policies that are consistent with Israel's interests and promote its survival as a Jewish, democratic state.
You've heard the arguments of the religious and political right-wing, and so have we. They've had their say. Now, we'll have ours.
Go HERE for all installments of APN's "They Say, We Say"
BDS & Criticism of Israel
They Say:
Why doesn't APN support calls to cut aid to Israel? Years of experience show that unconditional aid only encourages Israeli governments to ignore and defy the U.S. on settlements and other policies. Making clear that U.S. aid is on the line is the only real leverage the U.S. has to convince an Israeli government to behave differently. [An argument coming from the Left, as opposed to the Right]
We Say:
We categorically oppose calls for the U.S. to cut, or threaten to cut, military aid to Israel. We have long argued for the U.S. government to "play hardball" in its Middle East peace efforts. However, we believe that playing hardball does not and must not mean taking steps that threaten Israel's security. To the contrary: it is vital that the U.S. continues to assure Israel – its officials and its population – that America is unequivocally committed to maintaining Israel's security, including through military aid. Israel lives in a tough neighborhood, and unwavering U.S. military aid to Israel is a critical component in maintaining its security. Another critical component, of course, is the achievement of durable peace agreements with the Palestinians and, ultimately, with the region as a whole. U.S. support for efforts to reach such agreements, and, indeed, leadership of such efforts, is vital. But make no mistake: Israelis' trust in U.S. support for their security is essential to giving them the confidence necessary to take the risks inherent in any future peace agreement. Cutting, or threatening to cut, U.S. military aid would threaten their trust in the U.S. and undermine their confidence that their security can and will not be compromised by future peace agreements.
The claim that the U.S. has no leverage with Israel, other than threatening or cutting military aid, is inaccurate. The U.S. has other forms of leverage which it can and should bring to bear in its Middle East peace efforts, and, specifically, to press Israel on issues like settlement construction in the West Bank and East Jerusalem. These include employing with much greater force U.S. diplomatic leverage, both in the bilateral relationship or in multilateral forums. They include leveraging the many special programs and benefits that the U.S. provides to Israel, be they linked to loan guarantees or other forms of non-military aid (as the U.S. government has done in the past), or cooperation agreements. They include looking for ways to focus pressure even more squarely on settlement construction, along the lines of what some European countries are already doing – like pursuing special labeling requirements for products produced in settlements, or by launching a review of the activities of U.S. groups that support settlements. They could even include changing the U.S. approach at the UN to make clear that the U.S. will no longer veto resolutions on Israel, whether in the U.N. Security Council or the General Assembly, that are consistent with U.S. policy.