They Say, We Say: "If Arabs can live anywhere in Jerusalem…"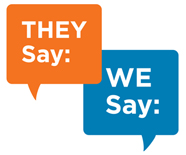 We know that pro-Israel does not mean blindly supporting policies that are irrational, reckless, and counter-productive. Pro-Israel means supporting policies that are consistent with Israel's interests and promote its survival as a Jewish, democratic state.
You've heard the arguments of the religious and political right-wing, and so have we. They've had their say. Now, we'll have ours.
Go HERE for all installments of APN's "They Say, We Say"
What About Jerusalem and Hebron
They Say:
Arabs can live anywhere in Jerusalem; Jews should be able to build and live anywhere in the city as well.
We Say:
The debate over settlements in East Jerusalem has nothing to do with equal access to housing. There is nothing "equal" about the way that Israel has dealt with land, residency issues, and investment in East Jerusalem since 1967. Rather, Israeli policies in East Jerusalem since 1967 have openly favored Israelis of the city over Palestinians, and have openly sought to expand the number of Israeli residents of East Jerusalem at the expense of the existing Palestinian population.
The truth is, very few Palestinians live in West Jerusalem, and, aside from those living in the large Israeli-government backed settlements, very few Israelis live in East Jerusalem in areas that are an integral part of urban or suburban East Jerusalem. Those settlements were built for the express purpose of drawing Israelis into the part of the city that Israel conquered in 1967. They are built on the 35% of that area which Israel expropriated for the purpose of such construction. Notably, no comparable housing projects have been built by Israel for Palestinians in either East or West Jerusalem since 1967.
In addition, a small number of Israelis have taken up residence in enclaves in the heart of Palestinian neighborhoods of East Jerusalem - like Silwan, Ras al Amud, and Sheikh Jarrah. Their openly declared purpose is to displace the local Palestinian population and establish Jewish hegemony in these areas. Many of these efforts are based on the implementation of a Jewish "right of return" to properties that were owned by Jews before 1948. No comparable Palestinian efforts exist in Jewish neighborhoods of West Jerusalem, and no comparable Palestinian "right of return" has been recognized with respect to properties that were owned by Palestinians in West Jerusalem prior to 1948.
The bottom line is this: Israelis and Palestinians don't especially want to live together in Jerusalem. The reasons for this are clear, including a preference to live within one's own community and near where one works, where one's children go to school, and where one worships. Settlements in East Jerusalem have never been about promoting coexistence or establishing equal housing for Israelis and Palestinians in all areas of the city. They are and have always been about creating facts on the ground in order to prejudice any future peace negotiations related to Jerusalem and, potentially, to block a future Palestinian capital in the city. If this effort succeeds, it will mean that the two-state solution is lost, and with it, Israel's ability to survive as a Jewish state and a democracy.