They Say, We Say: "Hebron belongs to the Jews"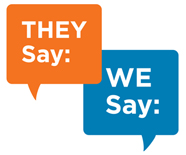 We know that pro-Israel does not mean blindly supporting policies that are irrational, reckless, and counter-productive. Pro-Israel means supporting policies that are consistent with Israel's interests and promote its survival as a Jewish, democratic state.
You've heard the arguments of the religious and political right-wing, and so have we. They've had their say. Now, we'll have ours.
Go HERE for all installments of APN's "They Say, We Say"
What About Jerusalem and Hebron?
They Say:
Hebron was the first capital of the Jewish state under King David. It is the site of the tomb of the patriarchs and matriarchs of the Jewish people - Abraham, Isaac, Jacob, Sarah, Rebecca, and Leah. Hebron cannot be given to the Arabs because, fundamentally, it belongs to the Jews.
We Say:
The Jewish connection to Hebron and the Tomb of the Patriarchs is profound and undeniable, as is the Jewish connection to numerous biblical sites in the West Bank. In many ways, Hebron is the cradle of our religion and our history. It is also true that Jews lived in Hebron from antiquity until recent history. However, even if one accepts the premise that because of this connection Israelis have the right to live in Hebron (indeed, anywhere in the historic land of Israel), it does not follow that this "right" must or should be exercised, or that this "right" should become a pretext to deny Israel peace.
If there is ever going to be peace with the Palestinians, it will require the establishment of a viable, contiguous Palestinian state. Keeping the settlements in Hebron at the cost of a negotiated two-state solution - one which guarantees the continued existence and viability of the Jewish state of Israel - would be a Pyrrhic victory for Israel.