They Say, We Say: "Israel can't trust any Muslim country to act as an ally"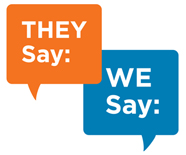 We know that pro-Israel does not mean blindly supporting policies that are irrational, reckless, and counter-productive. Pro-Israel means supporting policies that are consistent with Israel's interests and promote its survival as a Jewish, democratic state.
You've heard the arguments of the religious and political right-wing, and so have we. They've had their say. Now, we'll have ours.
Go HERE for all installments of APN's "They Say, We Say"
Is Peace Possible?
They Say:
Israel can't trust any Muslim country to act as an ally. Look at what has happened with Turkey - once an ally, Turkey's Islamist leaders now treat Israel as an enemy.
We Say:
Preventing further erosion of the Israel-Turkey alliance and repairing the damage that has been done to the relationship in recent years is vital for Israel's own interests. Turkey has for decades been a key ally of Israel. In 1949, Turkey was the first Muslim state to recognize Israel. Since that time, both Israel and Turkey have recognized the importance of this relationship, investing in diplomatic, military/security cooperation, and economic ties.
While historically Israel and Turkey did not see eye-to-eye on every issue, they succeeded in placing the bilateral relationship above any disagreements. Unfortunately, in recent years this has changed. Tensions that came to the fore with the 2008 Gaza War and that have deepened since that time - particularly in the wake of the May 2010 Gaza flotilla debacle - are still straining the Israel-Turkey relationship today.
There is unease in Israel and among many supporters of Israel about Turkey, with a growing sense that Turkey's government is becoming more Islamist and is seeking to project power into the Middle East, including through solidarity with Hamas and through harsh criticism of Israel. In Turkey, there is a growing sense that Israel is deliberately seeking to undermine Turkey-Israel relations. The absence of a credible peace process that can deal with, among other things, the problems in Gaza, perpetuates the kind of crises that drive the escalation in Turkey-Israel tensions.
This erosion of the Israel-Turkey bilateral relationship has serious potential negative ramifications for Israel, depriving Israel of an important and politically powerful ally in the region - an ally that has, and in the future can, represent a bridge to the Arab and Muslim worlds. This erosion also strains U.S.-Turkey relations, with potential negative ramifications for U.S. national security interests in the region, including its policies vis-à-vis Iraq, Iran and Syria.