They Say, We Say: "The Palestinians are not serious about a negotiated solution…"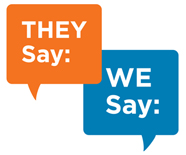 We know that pro-Israel does not mean blindly supporting policies that are irrational, reckless, and counter-productive. Pro-Israel means supporting policies that are consistent with Israel's interests and promote its survival as a Jewish, democratic state.
You've heard the arguments of the religious and political right-wing, and so have we. They've had their say. Now, we'll have ours.
Go HERE for all installments of APN's "They Say, We Say"
Why Should Israel have to give up land?
They Say:
The Palestinian drive for international recognition of a state without first achieving a peace agreement with Israel proves they are not serious about a negotiated solution to the Israeli-Palestinian conflict. This means they aren't serious about peace. Instead, they are trying to get the world to impose a solution on Israel - something that Israel will never, and should never, accept.
We Say:
The lack of progress in peace efforts has produced a growing sense among Palestinians and in the international community that the time has come for the Palestinians to force the issue by seeking international recognition of their state.
The Palestinian move to seek international recognition of a state of Palestine, even under occupation, reflects not only frustration with the pace of peace efforts but an understandable desperation - a recognition that the situation is nearing a tipping point where developments on the ground in the West Bank and East Jerusalem, in particular settlements and settlement-related infrastructure - will soon make the two-state solution impossible.
The Palestinians' quest for recognition reflects this loss of faith in a negotiated settlement as well as a laudable commitment by the Palestinian Authority to use only non-violent means to try to gain leverage. However, while it is the Palestinians' right to seek international recognition of a state of Palestine, even under Israeli occupation, unilateral actions, by Israel or the Palestinians, will never be a substitute for negotiations and cannot resolve the conflict - something that the Palestinian leadership itself has recognized even in the context of this effort.
U.S. and Israeli demands that the Palestinians desist from this effort will be irrelevant until such time as a credible negotiating process is re-established. Absent such a renewed and reinvigorated process, support for recognition of Palestine, outside a negotiated peace agreement, can be expected to continue to gain momentum.
Courageous U.S. leadership and engagement are vital to restoring faith in negotiations that can deliver a two-state solution in the near term - the only real answer to the Palestinian statehood issue. Efforts to use the issue of international recognition of Palestine as a pretext for imposing additional conditions or sanctions on the Palestinians must be rejected.