They Say, We Say: The U.S. Embassy in Israel should be moved to Jerusalem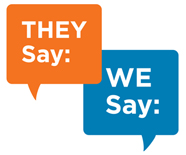 We know that pro-Israel does not mean blindly supporting policies that are irrational, reckless, and counter-productive. Pro-Israel means supporting policies that are consistent with Israel's interests and promote its survival as a Jewish, democratic state.
You've heard the arguments of the religious and political right-wing, and so have we. They've had their say. Now, we'll have ours.
Go HERE for all installments of APN's "They Say, We Say"
What About Jerusalem and Hebron
They Say:
Jerusalem is the capital of Israel and the U.S. Embassy in Israel should be moved there immediately, consistent with U.S. law.
We Say:
In 1995 Congress passed the Jerusalem Embassy Act, directing the president to move the U.S. embassy in Israel to Jerusalem. That legislation gave the president the authority to waive the requirement to move the embassy if he judged it to be necessary for U.S. national security. Every successive U.S. president -- Republican and Democrat -- has used this waiver, recognizing that moving the embassy outside the context of a peace agreement would be provocative and would undermine U.S. credibility, threaten U.S. peace efforts, and harm U.S. interests. Efforts to force the president to move the embassy, despite all of this, are misguided and counterproductive.