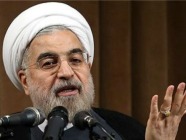 Iran's election of Hassan Rouhani, a former nuclear negotiator who promised greater nuclear transparency and to pursue "peace and reconciliation" with the outside world, presents the best opportunity for serious progress on diplomatic negotiations with Iran in over eight years.
But the future of diplomacy with Iran now lies with the House of Representatives. Rep. Eric Cantor (R-VA), the House Majority Leader, will soon choose whether to vote on a punishing sanctions bill next week that could poison the well for future diplomatic talks before Rouhani's inauguration in early August. To give negotiations a chance to succeed, the House must not vote on sanctions before August, when Rouhani is inaugurated and has a chance to negotiate with the United States and other members of the P5+1.

Proceeding blindly with sanctions, without considering what leverage is needed or if Rouhani is different from his inflammatory predecessor, Ahmadinejad, would signal to Iran that our rhetorical commitment to a diplomatic resolution is hollow, and that what we are really seeking is unending sanctions and war.

Having passed the House Committee on Foreign Affairs and garnered more than 350 cosponsors before Rouhani's election, the punishing sanctions bill (H.R.850) from Rep. Royce (R-CA) and Rep. Engel (D-NY) is now poised for passage. But as has been made clear, sanctions alone are not a strategy to resolve the nuclear impasse. Rather than increase leverage, sanctions have increased tensions on each side as Tehran responds to pressure with pressure, including by expanding the scope of its nuclear program.

Further, with sanctions already crushing the Iranian economy by targeting the financial sector and oil trade, the Royce-Engel bill increasingly targets the Iranian people who just voted for moderation over a continuation of Ahmadinejad's extremist policies. The bill would squeeze off commercial trade with Iran and, for the first time, fail to exempt humanitarian goods including life-saving medicine and food. In opposition to the administration's desires, the bill could fracture the international coalition on Iran by imposing a de facto oil embargo. And the bill would limit the president's ability to waive sanctions in exchange for Iranian concessions, the critical factor in any deal to prevent a nuclear-armed Iran.

Some might argue that there isn't, in fact, a danger in passing the bill because there is no companion bill ready in the Senate. But this assumes that Iran, in the absence of direct ties for three decades, will defer to the nuances of America's legislative process. In reality, it would be viewed as a hostile continuation of what many in Iran perceive as a strategy to undermine Iran no matter what. This would empower hardliners who were recently routed in the elections and who are distrustful of any accommodation or deal with the United States. The House could provide them the perfect opportunity to seize on a perceived repudiation of Rouhani's professed path of conciliation. As Rouhani and moderates jockey for position within Iran's political system during this transition, Congress needs to focus on how it can give space for moderates to proceed with serious engagement.

As 29 prominent former policymakers and experts, including former CENTCOM Commander Gen. Joseph P. Hoar and former Deputy Assistant Secretary of State Thomas Pickering, stated in a letter to President Obama two weeks ago, "no further sanctions should be imposed or considered at this time." And last week, a group of 131 bipartisan representatives urged the President to test the opportunity presented by Iran's election and to avoid actions that could delegitimize Rouhani at the expense of those opposed to reconciliation and peace.

After eight years of negative signals from Iran, highlighted by harsh rhetoric and escalation from Ahmadinejad and his allies, the Iranian people have created an opportunity for progress by choosing moderation. If the House responds by imposing additional suffocating sanctions before Rouhani even enters office, the world will view it as a move to sabotage diplomacy. Such brinksmanship would bring the United States, Iran and our allies closer to another disastrous war of choice in the Middle East. Now is the time for caution, not escalation. There is nothing to gain by pushing through sanctions, and everything to lose.

Call Majority Leader Eric Cantor (R-VA) and urge him not to schedule a vote on Iran sanctions before Iran's new president is inaugurated.

This article appeared in The Huffington Post on July 25, 2013.

Ryan Costello is a Policy Fellow at the National Iranian American Council. Lara Friedman is APN's Director of Policy and Government Relations.