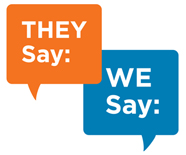 We know that pro-Israel does not mean blindly supporting policies that are irrational, reckless, and counter-productive. Pro-Israel means supporting policies that are consistent with Israel's interests and promote its survival as a Jewish, democratic state.
You've heard the arguments of the religious and political right-wing, and so have we. They've had their say. Now, we'll have ours.
Go HERE for all installments of APN's "They Say, We Say"
Is Peace Possible?
They Say:
How can Israel be expected to negotiate with the Palestinians if the Palestinian leaders refuse to recognize Israel as Jewish state?
We Say:
The demand that the Palestinians not only recognize Israel - something they have done repeatedly, starting in 1993 - but that they recognize Israel as "a Jewish state," or some similar wording, is relatively new. No such demand was made of Egypt or Jordan, nor was it mentioned in the Oslo agreement or subsequent Israeli-Palestinian documents. It made a brief appearance in the Annapolis talks of 2007, but only as a marginal issue. Only in 2009 did it truly come into play, courtesy of Benjamin Netanyahu. Netanyahu's decision to introduce the issue into the Israeli-Palestinian negotiating dynamic seemed to be a cynical one. It seems to have been intended to hinder the negotiations rather than to advance them. Netanyahu was faced with a U.S. president determined to forge ahead with peace and a Palestinian president who embraced the two-state solution, rejected violence, and was actively cooperating to fight terrorism. This left Netanyahu scrambling for a pretext to argue that Israel had no Palestinian partner for peace, as cover for his own anti-peace, pro-settlement policies. Thus was born the "recognition-plus" demand, which today is accepted by many Israelis and supporters of Israel as a condition for any peace agreement, and even as a precondition for continuing to sit at the negotiating table with the Palestinians.