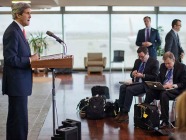 Secretary of State John Kerry confirmed today that General John Allen, The Obama administration's special security envoy to the Israeli-Palestinian peace negotiations, briefed Israeli and Palestinian leaders on the perception of the US regarding security arrangement on the way to achieving a two-state solution as well as the security regime that would characterize a future Palestinian state.
Speaking to reporters at Israel's Ben Gurion airport, before leaving the region back to the US, Kerry said that Allen's briefing was based on an analysis produced by the US security team that General Allen heads.
Allen's briefing, focused on security -- the issue that Prime Minister Netanyahu had repeatedly said is the most important component in a future Israeli-Palestinian agreement -- is apparently a first of its kind since the current round of US-brokered negotiations between Israelis and Palestinians started four months ago.
As such, it is an important development that signals the Obama administration's willingness to play an active role in advancing the negotiations, which might further mature into submitting bridging proposals to the negotiating parties, and perhaps even a comprehensive set of US parameters - a detailed vision of a two-state deal - for an Israeli-Palestinian final settlement.
Here is what Kerry said about the new development: "General John Allen, who came with me on this trip and did brief, did so because we've reached a point where we have something to brief on, where we have results as a consequence of the analysis that's been made. And we believe we're able to contribute thinking as a consequence of those - that analysis that could help both the Palestinians and the Israelis to make judgments about some of the choices that are important to arriving at an agreement. So that is progress, and it hasn't come easily."
He continued, "There are about 160 people who have contributed one way or the other to the process General Allen has pursued. The intelligence community, the Department of Defense, the State Department, the White House - all have been engaged in thinking through the various possibilities of how you deal with one problem or another with respect to security. And so obviously, security is paramount in the minds of the prime minister and his team with respect to their ability to be able to move forward with other issues that have to be dealt with."
Kerry emphasized that the US is committed to reaching an Israeli-Palestinian peace deal that would improve Israel's security, as well as the security of the Palestinians. "If Israel's security cannot be increased through this agreement, it's very difficult to make an agreement. So we are making certain that we're addressing each and every one of those questions," he said.
Kerry said that he and President Obama are committed to the diplomatic process and will continue to broker it. He said: "Nonetheless, it is absolutely clear to me through the discussions that we had - and believe me, I wouldn't spend these hours and I wouldn't come back here given the agenda that we face on a global basis if I didn't think it was worthwhile, if President Obama didn't believe it was worth pursuing."
For the full text of Kerry's press availability click here
For APN's analysis of how Israel could have defensible borders once it signs a peace deal with the Palestinians, click here
For Israel's Council for Peace and Security's analysis of defensible borders for Israel in the context of a two-state peace deal with the Palestinians click here