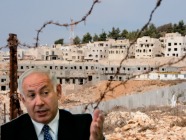 Today, APN President and CEO Debra DeLee released the following statement:
"We welcome the news that Israeli Prime Minister Netanyahu has instructed his Minister of Housing, Uri Ariel, to 'reconsider' the recently published tenders for the planning of more than 20,000 new settlement units in the West Bank and East Jerusalem.
We now await with great anticipation confirmation that Netanyahu has acted decisively to ensure that all of these planning tenders are canceled, just as he reportedly acted in such a decisive manner with respect to the single plan for 1,200 units in E-1 that was part of one of these tenders. We further urge the Obama Administration and the international community to press Netanyahu to show leadership by rolling back not only these new planning tenders, but the flood of tenders and approvals that he has permitted to go forward in recent months.
"We commend our colleagues in the Israeli Peace Now movement, who courageously tracked down the details of these new tenders and broke the story in the Israeli and international media. It is precisely through this kind of work that Peace Now, as a Zionist organization dedicated to Israel's future as a Jewish state and a democracy, plays a critical role in keeping alive the possibility of peace and a two-state solution.
"Since his new government took power in March, Peace Now has documented how Netanyahu has overseen a boom in settlement activity, including tenders for new construction, promotion of plans for construction in the short- and medium-terms, and ongoing construction on the ground. With each of the two rounds of Palestinian prisoner releases, Netanyahu has unleashed a surge of new settlement-related activity, each time under the pretext that doing so is a political necessity, given pressure from within his coalition and from the public. These arguments in no way justify his actions.
"Netanyahu's coalition challenges are entirely of his own making. This includes the problematic role of Netanyahu's own Minister of Housing and Construction, Uri Ariel, who today is becoming known as Israel's unofficial 'Minister of Settlements.' Netanyahu had - and continues to have - the option of bringing other parties into his coalition, in the event that the most extreme members of his government are truly forcing him to take actions that he personally does not support.
"Likewise, the world should take note of the fact that today, following the news that these new planning tenders will most likely not move forward, Israelis are not pouring into the streets to protest. They are not waving signs saying 'we demand more settlement construction.' To the contrary, most Israelis have little interest in the settlements and derive no benefits from the Netanyahu government's strong support for settlements. Indeed, the Netanyahu government's focus on and investment in settlements, deprives Israelis living inside the Green Line of badly needed public support and investment. It also deprives Israelis of the opportunity for peace, security, and normalcy that can only come with an end to the Occupation. In addition, it imposes on Israelis a high price in a currency that is becoming increasingly precious: legitimacy. Every new settlement-related announcement represents an act of self-delegitimization by this Israeli government - one that only feeds anti-Israel sentiment and nourishes the global boycott and divestment movement.
"There can be little doubt that Netanyahu would be happy to see the Palestinians abandon talks over the issue of settlements, on the assumption that in such a case, it would be the Palestinians, not Netanyahu, who would be blamed for collapsing peace efforts. Netanyahu understood, quickly, that these latest tenders were a bridge too far, and feared that if the Palestinians abandoned talks under these circumstances, he would bear the blame - and at a time when he is desperately seeking international support for his position on Iran.
"The current episode over these new planning tenders demonstrates indisputably that Netanyahu has the power to prevent and roll back settlement provocations - when he believes it is in his interest to do so. The conclusions that the world should draw are clear: Weak statements of disapproval of settlement provocations from the international community only bolster Netanyahu's view that pandering to settlers involves no real cost for him; stronger statements of outrage and demands for a change in policy, on the other hand, can convince Netanyahu that these reckless actions involve costs that are too high to bear.
"In this context, it is critical that the U.S. and international community make even clearer to Netanyahu that they reject the legitimacy of settlements, that they oppose all Israeli settlement expansion, and that the future borders of a Palestinian state will be determined through negotiations based on the 1967 lines, with land swaps, not by Israeli-imposed settlement facts on the ground.
Netanyahu is keen to remind the world that other parties - in particular Iran and the Palestinians - should be judged on their actions, not their words. The world needs to make clear to Netanyahu that the same standard applies to him. If he wants to show that he is serious about peace, he can begin by rolling back the settlement provocations he has launched in the context of the two rounds of prisoner releases, and by desisting from similar provocations in the future."