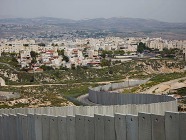 According to an Israeli radio report earlier today, Israel's Prime Minister Benjamin Netanyahu recently ordered Minister of Housing Uri Ariel not to issue new tenders for construction in settlements.
On the heels of this report, Israel's Peace Now movement today confirmed that, since President Obama's visit to Israel in March, the government of Israel has not announced or approved any new West Bank settlement construction plans, and has not approved any new tenders for settlement construction.
"This is not a freeze," clarified Hagit Ofran, the director of Peace Now's Settlement Watch project. Settlement construction is still taking place in numerous sites across the West Bank, sanctioned by plans and tenders that were approved before President Obama's visit.
Peace Now noted that settlement planning preceding Obama's visit to Israel was robust. During the interim period between the elections in January and establishment of the new government in March, Netanyahu's government advanced plans for 1,506 new housing units in settlements, many in isolated areas. According to Peace Now, these plans were advanced in order to create settlement construction momentum that would continue under the new government. This is, in fact, what is happening today. Construction on the ground continues at the same pace as before the election, and existing plans, many approved just prior to President Obama's visit to Israel, are being implemented.
Since the visit of President Obama, however, it appears that Netanyahu has adopted a policy of restraint, possibly to avoid being blamed for undermining Secretary of State John Kerry's efforts to launch a new Israeli-Palestinian political process. Americans for Peace Now and Israel's Peace Now movement welcome this restraint and reiterate their call on the government of Israel to immediately stop all settlement construction in the West Bank and East Jerusalem.
Minister Ariel, a longtime leader of the settlement movement, today all but confirmed the radio report, telling reporters that he has talked with Netanyahu about this issue, that there has been a recent change in settlement construction policy, and that queries should be directed at Netanyahu.
For more information on the advancement of plans under Netanyahu's lame-duck government, see Settlement Watch's April 23 Interim Government Report.
For more on the complex process of west Bank settlement construction planning and approval, see Peace Now's fact sheet