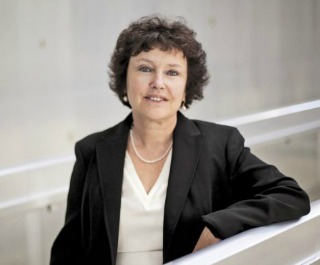 This week, Alpher discusses the renewed mystery regarding the cause of Yasser Arafat's death in 2004, what does Saudi Arabia's election to the UN Security Council followed by its prompt resignation tell us about Saudi-American relations and the Saudi role in the Iran and Syria issues, and why did it take so long for PM Netanyahu and Finance Minister Lapid to appoint Karnit Flug (pictured) as new governor of the Bank of Israel?
Q. What's behind the renewed mystery regarding the cause of Yasser Arafat's death in 2004?

A. This issue was reopened last week with revelations alleging that a Swiss autopsy carried out at the behest of Arafat's widow, Suha, had confirmed allegations from a year ago that the radioactive poison Polonium 210 killed Arafat on November 11, 2004. Last year it was claimed by Suha Arafat that residual Polonium had been found on Arafat's clothing and other personal effects and that he had been poisoned by Israeli agents directed to do so by PM Ariel Sharon. Israeli security authorities have consistently rejected any such allegations.

An alternative explanation of Arafat's death that has made the rounds since 2004 is that he had AIDS. Apparently, the original death report of the French health authorities who took care of him in his final days cites an immune deficiency. Most knowledgeable Palestinians vehemently reject the AIDS accusation. Yet the full French report has never been published. Interestingly, the new Swiss autopsy report was promptly disputed by authorities in Russia who are presumably experts in the use of Polonium as a poison.

Particularly conspicuous with regard to the new allegations, as with earlier accusations that Arafat had been poisoned by Israel, is the silence of Arafat's successor, Palestinian Authority and Palestine Liberation Organization head Mahmoud Abbas (Abu Mazen). Abbas' hesitation to join those citing AIDS or even an immune deficiency is understandable. But why wouldn't he seize on the Polonium allegations in order to "score points" against Israel in the global arena?

A source close to Abbas explained that the answer lies in Abbas' perception of the credibility of his negotiating credentials and his overall standing in Palestinian eyes, particularly at a time when renewed final status negotiations are in progress under the leadership of US Secretary of State John Kerry. After all, if Abbas accuses Israel of assassinating his predecessor, how can he justify his readiness to talk peace with Sharon's successors?

Q. Saudi Arabia was elected to the UN Security Council last week, then promptly resigned the post. What does this bizarre behavior tell us about Saudi-American relations and the Saudi role in the Iran and Syria issues?

A. Saudi Arabia has in recent months stepped up its aggressive diplomatic activism regarding both issues. A bid to join the Security Council for the first time--Riyad is a founding member of the United Nations--was understood to constitute another component of this activism, and the Saudis invested considerable diplomatic capital to make it happen. The surprising Saudi about-face in rejecting the Council seat was understood to reflect a direct decision by King Abdullah II, and was explained rather lamely by embarrassed Saudi diplomats as reflecting both Saudi anger and frustration over the seemingly conciliatory direction American policy was taking, with Russian and Chinese backing, with regard to Syria's chemical weapons arsenal and Iran's nuclear project, as well as the absence of strong international pressure regarding the creation of a Palestinian state. The Saudis were hoping to see US military action against the Bashar Assad regime in Damascus and a less accommodating stance toward Iran.

The surprise Saudi move was clearly understood as a rebuke to Riyad's American ally and specifically the Obama administration. Less clear was the Saudis' call for reforms in the Security Council as a condition for reversing their decision, although Palestinian Authority President Abbas quickly issued a public statement of support for the Saudi position.

Apparently, at some point the highest authority in Riyad judged it pointless to associate Saudi Arabia with a Security Council whose leading members are adopting policies it opposes. Conceivably, the Saudis decided that they could better lobby for more aggressive American support for their confrontation with Assad and the Iranians if they weren't encumbered by Council membership, with its presumed obligation to represent the positions of additional Arab countries. A kind of preview protest was registered at the UN General Assembly on October 7 when Saudi Foreign Minister Saud al-Faisal abruptly cancelled his annual address based on the same allegations.

Certainly, the decision does not appear to dim the thrust of Saudi activism. Last week I participated in a panel discussion in Washington alongside Prince Turki bin Faisal al-Saud of Saudi Arabia. The audience was a group of Iranian Americans affiliated with an American advocacy group, NIAC, that to its credit sought to expose its members to diverse expressions of criticism of Iran.

Turki, who is a former chief of Saudi Intelligence, former ambassador to the United States and United Kingdom, and brother of Saudi Arabia's foreign minister, allowed that this was the first time he had ever addressed any sort of Iranian audience. Rather dramatically, he pulled no punches when it came to characterizing the Islamic Republic regime. "Insular", "combative", "feudalistic", "isolationist", "inciting dissidence and revolution", "bombastic claims of religious leadership", "cause of the problems in Iraq and Syria", and "forces of darkness" were a few of the adjectives and descriptive phrases I jotted down. There were even innuendoes about who among the Iranian leadership did or did not have Arab lineage. Israeli PM Binyamin Netanyahu's attacks on the Tehran regime almost pale by comparison.

Turki also made a case in his NIAC talk for Israel to accept the Arab Peace Initiative, for a UN-mandated nuclear-free Middle East, and for a quick solution to the Palestinian issue--all as ways of integrating Israel fully into the Middle East. Behind the scenes, he is known to be active in advancing all three tracks, and that itself is something of an innovation in Saudi diplomacy.

The Saudis are aware that many in Israel's security establishment are also concerned over the Obama administration's ostensible "zigzag" regarding the need for a military response to Assad, who has emerged strengthened by the chemical weapons affair, and over the possibility of problematic concessions to the Iranians. Yet their latest demonstration of pique at the UN does not bring them any closer to direct collaboration with Israel, and actually distances them from Washington. On the other hand, they may have felt that Security Council membership would bring with it unwanted scrutiny of some of their own policies, including support for Salafi rebels in Syria and Iraq and backing for the beleaguered Sunni minority regime in Bahrain. One alternative speculative explanation for the surprise Saudi Security Council reversal is internal politics among the huge royal family, and specifically an initiative by Abdullah to embarrass Saud al-Faisal and replace him with one of the king's sons.

Saudi diplomacy has long suffered from a seeming lack of "bench strength" or depth. The Security Council affair appears to offer yet another demonstration of that lacuna. For better or for worse, the Saudis appear to have opted to stick with "secret elite-elite diplomacy".

Q. After months of embarrassing waffling, PM Netanyahu and Finance Minister Lapid appointed a new governor of the Bank of Israel who had long been a candidate for the post: Karnit Flug. What happened here?

A. From the outset, both Netanyahu and Lapid preferred to appoint an internationally-known financial "star", even a man who had in recent years spent little time in Israel. This was, in effect, the model left behind by outgoing governor Stanley Fisher, who was considered a success. But the prime minister and finance minister kept encountering problematic CVs that would not pass the strict Israeli civil service standard, along with suspicious media who asked why they could not look closer to home. In this way, they left the Bank governor-less for more than 100 days.

Then three things happened to lead to the appointment of Flug, who in recent years served as Fisher's deputy (he endorsed her candidacy), and will now become the first woman to head the Bank of Israel. First, Flug, as acting governor after Fisher's departure, did an impressive job. The media paid closer attention to her, thereby somewhat brightening her previously lackluster image. Second, the United States appointed a woman for the first time as head of the Federal Reserve. And third, the polls showed a sharp drop, nearly 50 percent, in support for Lapid's party, Yesh Atid, and the appointment of a "local" candidate and a woman was seen as a popular move.

Flug could and should have been appointed months ago. The current set of circumstances behind her appointment--the aping of an American gender precedent and a knee-jerk reaction to short-term opinion polls--hardly reflects deep thinking on the part of Netanyahu or Lapid. Indeed, the whole affair reflects shallow decision-making on their part.