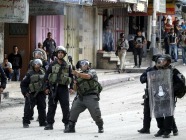 Americans for Peace Now (APN) joins its Israeli sister organization, Israel's Peace Now movement, in strongly condemning the killing of two Israeli soldiers in the West Bank over the Sukkot holiday weekend.
Our hearts go out to the families of the soldiers. As always, we stand with the people of Israel at difficult times such as this. We recognize that there are forces on both sides that will use any means available - including violence - to derail the current peace efforts and to prevent a two-state peace deal that involves a historic compromise.

While we urge the Palestinian Authority to work with Israel to bring to justice the perpetrators of such heinous attacks, we also call on the Israeli government resist the settlers pressure to use the latest incidents as an excuse for further settlement expansion in the city of Hebron or in other places in the West Bank. Both governments have a responsibility to rein-in their extremists and focus on efforts to achieve peace.

APN's President and CEO Debra DeLee commented: "Over the weekend, two Israeli soldiers were killed by Palestinians in the West Bank, in two separate incidents. We strongly condemn the killings and send our condolences to their families and to our Israeli brethren.

"Following the killing of a soldier by a sniper near the Cave of the Machpela (The Ibrahimi Mosque) in Hebron, Prime Minister Benjamin Netanyahu announced that Jews will immediately be allowed to move into a nearby structure, the ownership of which has been under dispute between Hebron's Israeli settlers and local Palestinians. So far, the Israeli government has been resisting the settlers' pressure to take over the house and create a new settlement-stronghold there. Now, Israel's prime minister has announced that as a response to Palestinian violence, settlers will be allowed to move into the structure.

"If it materializes, this will be the closest settlement to a shrine that is holy to both Jews and Muslims, where an Israeli terrorist killed 29 Muslim worshipers in 1994. As our Israeli Peace Now colleagues stated, at moments like this, cool heads must rule, and extremists on both sides must not dictate the political agenda. The way to diminish violence is to minimize friction between Israelis and Palestinians. Expanding settlements will achieve the opposite result. An end to violence requires a resolution to the conflict, which requires a diplomatic process of negotiations and a political agreement."

Americans for Peace Now is the sister organization of Shalom Achshav, Israel's preeminent peace movement. APN's mission is to educate and persuade the American public and its leadership to support and adopt policies that will lead to comprehensive, durable, Israeli-Palestinian and Israeli-Arab peace, based on a two-state solution, guaranteeing both peoples security, and consistent with U.S. national interests.