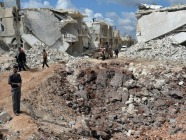 APN is deeply concerned over the spiraling calamity in Syria. More than two years of fighting has left the country in ruins and more than 100,000 people dead, including, in the latest phase, hundreds killed in a chemical weapons attack.
The scale of the humanitarian catastrophe taking place in Syria is simply intolerable. Likewise, the political and security implications of an ongoing civil war in this volatile region, including both a regime ready to go to almost any length to terrorize its citizenry, and various opposition groups engaging in their own brutality, are extremely troubling. The fact that in this latest phase the regime has broken with the longstanding international norm against the use of chemical weapons illustrates the very real danger of escalation, both inside Syria's borders and beyond - as is already being seen in Lebanon.

Clearly, there are no easy answers on Syria, and APN has not taken a position for or against U.S. or international military intervention. Bearing in mind APN's core mission of achieving peace and security for Israel, we are gravely concerned about the risks of spillover of the current Syria conflict into Israel - risks that may be heightened by military intervention against the Assad regime. We urge the Obama Administration to consult closely with Israel's national-security leaders in the coming period to ensure that they can take any necessary steps to protect Israel's borders and citizens.

Finally, given the complexity of the situation in Syria, and its implications for the region and beyond, it is imperative that decision-makers strive for multilateral action and, to the greatest degree possible, multilateral clarity and consensus regarding the goals, both tactical and strategic, of any intervention - be it humanitarian, military, diplomatic, or some combination thereof. These goals must go beyond merely seeking to deter additional use of chemical weapons. They must look to stabilizing the situation in Syria and defining an exit strategy that can prevent additional destruction and loss of life, and preclude the further spread of violence.

Below is a list of English-language resources that we have believe may be helpful to those seeking to follow developments in Syria and their implications (inclusion on this list does not imply an endorsement of every article or opinion published at any of these sites).