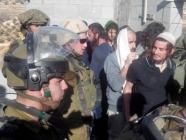 Israel's Peace Now (Shalom Achshav) movement today sent a letter to the Israeli government, demanding that it enforce the law and remove Esh Kodesh, a West Bank settlement that was established in violation of Israeli law, whose residents have repeatedly attacked neighboring Palestinians.
Residents of this illegal outpost yesterday attacked Palestinians in the neighboring village of Kusra, near Nablus after Israeli law enforcement officers removed saplings that the settlers had planted in an attempt to illegally take over more land that they don't own. The Palestinians apprehended the settlers and handed them over to the Israeli authorities, who took them for questioning.
Peace Now's letter is addressed to Minister of Defense Moshe Yaalon, to the Israeli military commander of the West Bank, Nitzan Alon, and to the head of Israel's Civil Administration in the West Bank, David Menachem. In the letter, Peace Now's lawyers, Michael Sfard and Shlomy Zachary demand that they immediately evacuate Esh Kodesh.

Sfard and Zachary explain that Esh Kodesh, which was established illegally in 2001, without the authorization of the Israeli government and partially on land privately owned by Palestinians, has become a menace for neighboring Palestinian villages. In the past, its residents have torched Palestinian fields, uprooted trees, vandalized vehicles and severely injured Palestinian villagers. "Esh Kodesh is an outpost that serves as launching ground for severe unlawful activity, and as such - beyond being illegal and unauthorized - it creates severe friction that causes harm to people and their property, and therefore heavily burdens the security authorities."
Peace Now's lawyers point out that demolition orders have been issued in the past against Esh Kodesh's illegally-built homes and other structures. The government has failed to enforce the orders.
Peace Now has in the past petitioned Israel's High Court to compel the government to carry out its own demolition orders against West Bank settlements that have been built illegally, in violation of Israeli law, without the required permits from the Israeli authorities and typically on privately-owned Palestinian land. Several of those petitions were successful and led to the demolition of illegal construction.
In their letter, Peace Now's lawyers suggest that inaction by Israeli authorities will trigger legal action with regards to Esh Kodesh.
P.S. It did not help Secretary of State John Kerry's Israeli-Palestinian peace efforts when three US Senators - Republicans John McCain of Arizona, Lindsay Graham of South Carolina and John Barrasso of Wyoming - held a press conference in Jerusalem last Friday, as Kerry was shuttling between Jerusalem and Ramallah, in which they questioned the viability and feasibility of Kerry's mission, including the very idea of an Israeli withdrawal from the West Bank. For more on the Senators' comments click here.