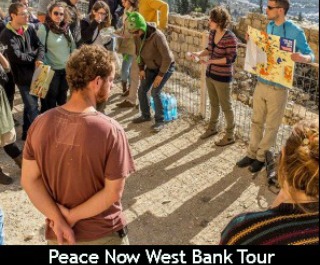 On December 30th, Justice Minister Tzipi Livni said, "The settlements are not part of Israel's security, they are hurting it."
APN and Peace Now in Israel need your help to continue the fight against settlements. Please support this work.
Livni, a former Foreign Minister and Mossad agent, is neither naïve nor ignorant about the security challenges facing Israel. She knows, better than most, that continued settlement construction deepens occupation, increases international isolation, foments conflict and violence, and blocks a two-state solution. Livni also understands, it seems, that stopping settlements is vital to Israel's security.
Peace Now is doing exactly this.
As the leading peace movement in Israel, Peace Now works day in and day out to stop the settlements from hijacking Israel's future. Whether tracking developments on the ground in the West Bank and East Jerusalem (often at great personal risk), taking its case to the halls of the Knesset, bringing legal action in Israeli courts, organizing actions in the public square, or bringing vital information into the public eye, Peace Now's internationally acclaimed Settlement Watch program is the premier source for information about and action against Israel's settlement enterprise.

As an organization founded by Israeli soldiers and reservists, Peace Now considers Israel's security to be paramount. Peace Now's leaders and activists know that Israel's survival as a Jewish state and a democracy can only be secured through an end to settlement expansion, a dismantlement of the occupation, and the achievement of a two-state solution. Americans for Peace Now and our colleagues in the Israeli Peace Now movement are working every day to achieve this. For the sake of Israel's security and its future, join us now.
Lara Friedman
Director of Policy & Government Relations, Americans for Peace Now
P.S. From all of us at Peace Now and Americans for Peace Now, we send a heartfelt thanks for your support, along with our best wishes for a happy, healthy New Year -- and may it be a year where we at last see peace for Israel and the Palestinians.