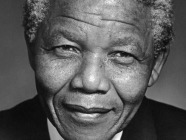 Americans for Peace Now (APN) mourns the death of Nelson Mandela, an iconic leader and an inspiration for peace-seekers worldwide.

APN's President and CEO Debra DeLee said: "Nelson Mandela demonstrated that peace and reconciliation are possible even in the most intractable conflicts, even when hope for resolution seems distant. Mandela has shown that with enough resolve and courage, bold leaders can do what is the unthinkable.
"While the conflict between Israel and its neighbors differs greatly from Apartheid-era South Africa, the leaders of Israel, the Palestinians and the neighboring Arab states would greatly serve their publics if they exercised the same courage and resolve that Mandela has shown as the person who led South Africa into a new era of peace, reconciliation and forgiveness.

"May Nelson Mandela's legacy be an inspiration for the leaders of this beleaguered region to lead their nations into an era of peace - the peace that Israelis, Palestinians and neighboring Arabs want and deserve."

Americans for Peace Now is the sister organization of Shalom Achshav, Israel's preeminent peace movement. APN's mission is to educate and persuade the American public and its leadership to support and adopt policies that will lead to comprehensive, durable, Israeli-Palestinian and Israeli-Arab peace, based on a two-state solution, guaranteeing both peoples security, and consistent with U.S. national interests.