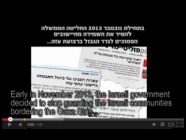 On October 31, Israel's Defense Forces pulled out its last troops from guard-posts in communities surrounding the Gaza Strip.
After more than a year of relative quiet on the Gaza border, the IDF felt that it could relax its tight security of the 22 communities on what is known as the "Gaza envelope," and rely on other security assets. The decision drew public uproar, and security chiefs explained that they have to prioritize their allocation of resources.

Israel's Peace Now movement used the public debate to remind Israelis what the real priorities of their government are. Through this video, they showed that while Israeli kibbutzim and moshavim are de-prioritized, West Bank illegal outposts - settlements established in violation of Israeli law, often on land privately owned by Palestinians - are guarded around the clock.