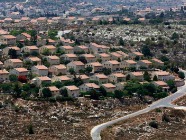 Americans for Peace Now (APN) today denounced the government of Israel's actions to move forward with yet more settlement approvals in both East Jerusalem and the West Bank. APN once again urged U.S. officials - President Obama, Secretary of State Kerry, and Special Envoy Indyk - to engage forcefully to convince Prime Minister Netanyahu to cease and roll back these reckless, destructive decisions.
APN President and CEO Debra DeLee (currently in Israel) commented:
"Today's announcements of yet more approvals for settlement expansion were as predictable as they were unhelpful, coming less than 3 months after another flood of settlement announcements. Both times, settlement apologists argued that Prime Minister Netanyahu had no choice but to support settlement construction, since he faced fury from the Israeli public and the right-wing of his coalition over the release of Palestinian prisoners. In both cases, that argument is a feeble defense of decisions that signify contempt for the entire notion of peace and a two-state solution.
"Let no one forget: Netanyahu's coalition challenges are of his own making, as are his public relations problems related to prisoner releases. Netanyahu is responsible for the composition of his coalition. Likewise, it was Netanyahu who chose, as a sign of seriousness about peace negotiations, to release prisoners rather than curb settlements. Moreover, advancing settlement expansion in the East Jerusalem settlement of Ramat Shlomo, or in isolated West Bank settlements like Shilo, Beit El, or Almog - all of which he has done this round - does nothing to ease the pain and anxiety Israelis feel over the release of Palestinian prisoners. Rather, it panders to the settlers and promotes the establishment of new facts on the ground whose central purpose is to complicate and obstruct any two-state agreement.
"Some are today suggesting that comfort can be found in the fact that the current round of announcements could have been much worse. It is indeed true that this round of announcements could have been bigger, or could have included even more problematic projects, but this in no way mitigates the fact that Netanyahu is talking peace while expanding settlements. Moreover, the fact that this round could have been worse in no way changes the fact that, as the Israeli Peace Now movement recently reported, settlement construction in the first half of 2013 was 70% higher than the same period in 2012 - construction that is in addition to the expansion announced in these last two rounds of approvals. As we noted in August, 'every new settlement-related announcement erodes the viability of the newborn peace effort. Every Israeli bulldozer working the soil of the West Bank and East Jerusalem undermines the credibility of Palestinian leaders who remain committed to a negotiated agreement in the eyes of the general population. Every new unit tendered and built makes it incrementally more difficult to achieve a two-state solution.'
"There can be little doubt today that Netanyahu would be happy to see the Palestinians abandon talks in protest of his actions, on the assumption that in such a case, it will be the Palestinians, not Netanyahu, who are blamed for killing Secretary Kerry and President Obama's peace initiative. We sincerely hope the Palestinians will not fall into this trap. However, the Palestinians' ability to remain in talks under current circumstances depends more than ever on the United States and the international community. It is imperative that the U.S. make clear that it rejects all Israeli settlement expansion, and that the future borders of a Palestinian state will be determined through negotiations based on the 1967 lines, with land swaps, not by Israeli-imposed settlement facts on the ground.
"We urge President Obama, Secretary Kerry, and Special Envoy Indyk to make this case to the Israelis and to the public, in order to help preserve for the Palestinians sufficient political space to remain at the negotiating table, despite Netanyahu's settlement provocations. We also urge Obama Administration officials to cease pressure on the European Union to roll back its pro-Israel, pro-peace policy of refusing to support settlements. Looking ahead to the next rounds of prisoner releases, we urge the Obama Administration to engage energetically to prevent additional predictable, provocative surges of settlement approvals."