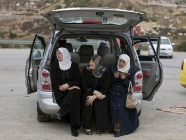 This week, Alpher discusses that given both an intensifying Israeli-Palestinian negotiating process and a spike in violent incidents with Palestinians, which way we are heading; whether, in addition to the Saudi decision to reject a UN Security Council seat, there are additional manifestations of anger or disappointment with America among its Middle East friends; and what was significant about Israel's recent municipal elections for the broader public and political scene.
Q. Lately, we hear about both an intensifying Israeli-Palestinian negotiating process and a spike in violent incidents with Palestinians. Which way are we heading?

A. On the positive side, the pace of negotiations has indeed been stepped up, with meetings between chief negotiators Tzipi Livni and Saeb Erekat held on three consecutive days last week. Secretary of State John Kerry's special envoy for the talks, Martin Indyk, has beefed up his staff with highly knowledgeable practitioners and sits in on a growing proportion of the meetings. Kerry and Israeli Prime Minister Binyamin Netanyahu met recently in Europe for a long talk that apparently centered on the negotiations.

There are widely divergent rumors as to the progress, or lack thereof, registered in the talks. For what it's worth, one Palestinian source with close access to President Mahmoud Abbas allowed ten days ago that some sort of new declaration of principles was a possible outcome, while an Israeli source speculated that a US bridging proposal was in the offing. In contrast, a Palestinian leak to Israel's channel 2 laid out a list of hard-line positions that, if held to, would render an agreement impossible.

This week will witness the second of four releases of 26 Palestinian prisoners incarcerated by Israel for terrorist offenses from before the Oslo era. The Palestinian public will celebrate their release and welcome them as national heroes, while Prime Minister Netanyahu will announce a few thousand new building starts in East Jerusalem to placate his own right wing. The far right HaBait HaYehudi party, one dozen MKs-strong within the coalition, believes the new settlement construction does not rationalize prisoner-release and exploited the occasion to whip up anti-peace sentiment among the public. The party in effect blamed Livni for liberating Palestinian murderers--not a healthy political dynamic for a country whose prime minister was assassinated over precisely the same issues exactly 18 years ago.

The behavior of HaBait HaYehudi bodes ill indeed for the prospect of an actual breakthrough in the peace talks, both at the coalition level and in terms of the reaction of extreme pro-settler right-wingers. Yet as long as the talks remain secret and there is no breakthrough, Netanyahu can maneuver his way through prisoner releases and minor crises.

Nor was the process derailed by the recent spike in violence, which featured five live-fire attacks by Palestinians against settlers in the West Bank that left three settlers dead, and repeated violent incidents on the Temple Mount. Significantly, many of the attacks were spontaneous acts by frustrated Palestinian individuals--ostensibly a reflection of a worsening popular mood. Hamas, which seeks to derail the peace process for ideological reasons, was behind a few of the incidents, just as it took credit for digging a 2.5 kilometer-long tunnel into Israeli territory from Gaza that the IDF uncovered. The tunnel, which was meant to facilitate another Gilead Shalit-style abduction, had multiple exits and a concrete lining--prompting Israel to cease all deliveries of building materials to the Strip, which is already suffering severe economic difficulties since the military-dominated government in Egypt closed down the Gaza-Sinai commercial smuggling tunnels.

In parallel, olive harvest season in the West Bank brought with it numerous incidents of extremist settlers harassing and attacking Palestinian villagers, with the IDF usually caught in the middle.

So are we heading into a new escalatory spiral of violence? Former Shin Bet chief Yuval Diskin thought so when he warned last week of a new Palestinian uprising emerging from economic problems, settlement expansion and peace process paralysis. Gaza-based Hamas Prime Minister Ismail Haniyeh called some ten days ago for precisely such a new uprising. And a senior IDF officer in the West Bank last week noted "a negative trend. . . . there is an atmosphere of terror attacks."

A new intifada would require that Palestinian security forces melt into the woodwork and enable terrorists to set the tone (or join them). And indeed, one knowledgeable Israeli observer noted last week that the PA security presence has weakened of late, particularly in the West Bank refugee camps, where civilians can be seen carrying weapons.

In contrast, Defense Minister Moshe Yaalon remarked last week that, despite the recent wave of attacks, "we don't see any motivation or organization" for a major wave of violence. And Brigadier General (ret.) Shlomo Brom, a veteran peace negotiator who follows Israeli-Palestinian security affairs at a Tel Aviv think tank, stated pointedly last week that "this is the best security cooperation we've had in years. The Palestinian security forces are much more professional than in the past and they are not political."

The bottom line? The peace process proceeds apace, with US pressure and involvement not abating. In parallel, some of the components of a renewed wave of Palestinian violence appear to be present. If a new intifada is going to break out, this will probably happen only if and when the peace talks are pronounced a failure. Correspondingly, a new intifada remains unlikely as long as it jeopardizes the third and fourth prisoner releases. This means in effect at least a few more months of relative stability.

Q. Last week you described the Saudi decision to reject a UN Security Council seat as "a rebuke to Riyad's American ally". Are there additional manifestations of anger or disappointment with America among its Middle East friends?

A. Yes, but most are limited to angry editorials and op-eds in the Saudi and UAE press. They do not point to any serious alternative policy courses for the moderate Arab camp, however great its suspicions of some sort of "sell out" by Washington over Iran and Syria.

Thus, when head of Saudi intelligence and former Saudi ambassador to the US Prince Bandar Bin Sultan reportedly told diplomats last week that he plans to "limit interaction with the US", there was a sense of deja vu among both Washington and Middle East observers. What are Bandar's alternatives? The Saudis continue to buy sophisticated American weapons and the emirates continue to host American forces. If Saudi Arabia felt capable, militarily and politically, of itself punishing the Assad regime in Damascus for its use of chemical weapons, it would have done so long ago rather than complain that President Obama didn't do the job.

Still, there were additional manifestations of displeasure with Washington. The military-dominated regime in Egypt sent a delegation to Moscow to display its pique over a US decision to cut some $250 million in military aid (which in turn was a signal of Washington's displeasure over lack of movement by Cairo toward democratization). Turkey's PM Recep Tayyip Erdogan felt free to sign a deal to purchase Chinese missiles despite Ankara's NATO membership and to host a Hamas delegation led by Khaled Meshaal, thereby further upgrading relations with the Gaza-based movement. And of course PM Netanyahu continued cautiously to voice concern over possible premature concessions to the Iranians over the nuclear issue.

The bottom line here is that, with the possible exception of increasingly Islamist Turkey, none of America's allies in the Middle East has a ready alternative to its strategic relationship with the United States, even as Washington moves steadily--in Iraq, Afghanistan and Syria--toward a significant lowering of its active military profile in the region.

Q. What was significant about Israel's recent municipal elections for the broader public and political scene?

A. Two developments are of note. First, three serving mayors running for reelection did so despite pending indictments over corruption charges. The indictments caused the High Court of Justice to rule that the mayors had to resign prior to the elections, which they did. But existing laws could not prevent the three from running again.

All three, who were considered successful mayors and had previously been elected by margins of around 90 percent, won reelection by just over 50 percent. In other words, a portion of their previous electorate rejected them on ethical grounds, but not the majority. Indeed, the message sent to the High Court by the reelection of the three was one of popular rejection and disdain.

The negative implications for the rule of law and for the public's tolerance of corruption in public service were obvious. Especially at the municipal level. One of the three mayors runs Ramat HaSharon, where I live. On election day, at the local mom and pop store it was suggested cynically that I vote for him because "he's already stolen from the till, so now we won't have to watch him."

In all three cases, there was one significant mitigating circumstance. Legal proceedings against the three have been drawn out over years and years, provoking justified public disapproval of the judicial system and sympathy for its mayoral "victims", however corrupt they may or may not be. This is relevant to the anticipated court decision, next week, in the corruption case of Yisrael Beitenu head and former foreign minister Avigdor Lieberman, who has been the target of investigations and litigation for nearly 15 years without a verdict.

Lieberman also figures in the second notable development. Moshe Leon, the (orthodox) candidate for mayor of Jerusalem who was "run" jointly by the secular Lieberman and ultra-orthodox Shas leader Aryeh Deri, lost a narrow race to incumbent Nir Barkat, who is secular. Leon, a kind of "carpetbagger" brought in from the town of Givatayim to challenge Barkat, was backed by most of the Likud except PM Netanyahu, who supported Barkat. Barkat won because Deri was unable to deliver all of Jerusalem's ultra-orthodox vote in favor of Leon.

The fallout is not only a loss of prestige for Lieberman and Deri. Lieberman's electoral and coalition partnership with the Likud could now be weakened. And Shas, already reeling from the death some two weeks ago of its spiritual leader, Rabbi Ovadia Yosef, could not witness new dissent within its ranks.