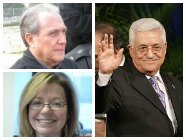 Americans for Peace Now's President and CEO Debra DeLee and our Chairman of the Board Jim Klutznick represented APN last night at a meeting for Jewish community leaders with Palestinian President Mahmoud Abbas in New York.
Abbas spoke about his commitment to a negotiated peace with Israel, and called on the attending Jewish community leaders to help promote peace between Israel and a future Palestine - two states living side by side in peace and security.

Here are several quotes from Abbas' talk, which was on the record, as published in the official Palestinian news agency, WAFA.


"We have a real opportunity to achieve lasting, just, and comprehensive peace"..."We can do it, make no mistake."
"No one gains more from reaching an agreement than Palestinians, and no one loses more if we fail to reach an agreement. Failure is not an option for us."
"We need your support to ensure the successful conclusion of the peace negotiations so that the State of Palestine can live side by side with the State of Israel in peace and security on the 1967 borders."
"I urge the Israeli government to focus on building peace, and not building settlements."
"It is time to achieve peace in the holy land; it is time for Jews, Christians and Muslims to show the similarities of the greatness of these three faiths. It is time to replace hatred, conflict, bloodshed and incitement with cooperation, building together and realizing the potential of Israelis and Palestinians in times of peace."
"I am, 78 years old with 8 grandchildren, in pursuing peace, in trying to reach a historical agreement with Israel that will end the conflict and claims, I am not doing Israel a favor, I am doing it as a cardinal interest for my people. I hope and pray that Israeli leaders will act in the same manner."
On incitement, Abbas said, "I propose to revive the trilateral committee on anti-incitement composed of the US, Palestinians and Israelis."
"...meanwhile we will continue with our institution building for the State of Palestine. I reiterate to you that the State of Palestine will be an example of democracy, human rights, women rights, accountability, transparency and the role of law.


APN's Chairman of the Board James Klutznick said Abbas' comments were positive and reassuring.