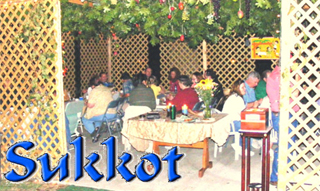 Beginning Wednesday night, September 18th, the Jewish holiday of Sukkot begins.

During the week-long holiday, Jews build a special kind of home to dwell in for the week, called a sukkah. The sukkah is a deliberately temporary house, which can have no more than one permanent wall, and whose roof must be open to the sky, covered only partially by natural materials such as branches. The sukkah is a strange sort of dwelling, and yet, it is so important, that we use it every Friday night on Shabbat, as a metaphor for peace, asking that God, "spread over us a sukkah of Your peace."

May this year's sukkah be a sukkat shalom, a sukkah of peace, and may we merit to build our house - Israel- from peace.