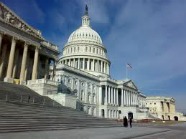 Over the past weeks and months, APN challenged you, over and over, to take action on the issue of Iran. In each case, APN activists took up the challenge, generating thousands of calls and emails to members of the House and Senate. These interventions came at exactly the right time and conveyed the same underlying message: Americans who care about Israel want Congress to give diplomacy with Iran a chance.
Today, I am writing to make sure you know: your activism worked.
Back in July, we called on you to press House members to sign a letter that demonstrated to the Obama Administration (and the world) that there is support in Congress for Iran diplomacy. In the end, almost one-third of the House signed the letter - contributing to the momentum that led to last month's talks with Iran in Geneva.
As talks in Geneva proceeded, we called on you to urge Congress to refrain from actions that would undermine that delicate diplomatic effort. In the end, key senators resisted efforts to force through additional sanctions legislation that would certainly have destroyed the talks.
In the wake of the Geneva interim agreement with Iran, we called on you to tell Congress to reject actions - like pursuing new sanctions or imposing negotiating red lines - that would threaten the historic interim accord reached in those same talks. In the end, members of both the House and Senate resisted heavy pressure to pursue legislation that would certainly have killed this agreement.
These results demonstrate the power that you, as engaged Americans who care about Israel and U.S. national security, have in the political process. Every call you made and every message you sent reminded your elected officials that they have large and engaged constituencies that want them to support diplomacy to resolve the Iran nuclear issue - constituencies that are holding them accountable. Likewise, your actions helped members of Congress see that the loudest, most bellicose voices on the issue of Iran do not, in fact, represent all American Jews or the true pro-Israel position, even if they claim to do so.

Congress now heads into winter recess, giving all of us a few weeks to savor these victories. Those who oppose Iran diplomacy expended huge efforts in trying first to block diplomacy, and then to undermine its results. Their efforts thus far have failed, in large part due to the engagement of activists like you. When Congress returns in 2014, these same forces will no doubt redouble their efforts to undermine a potential diplomatic solution with Iran. When that time comes, APN knows that you, committed activists driven by your commitment to Israel and U.S. national security - will be ready to meet that challenge.