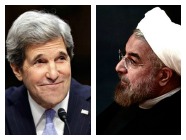 Update: this action, now closed, ran in December 2013.
Only weeks ago we welcomed the achievement in Geneva of an historic agreement with Iran. This interim agreement opens the door for a final agreement that resolves U.S. and international concerns about Iran's nuclear program and ambitions. Such an agreement holds the promise of a more secure and stable Middle East, as well as positive impacts outside the region.

Tell your Representative and Senators: support the Obama Administration's ongoing diplomacy with Iran.
Anyone who cares about U.S. national security, the security of Israel, or stability in the Middle East should do everything possible to ensure the success of this Iran diplomatic effort. Unfortunately, today there is strong momentum in Congress and outside pressure on Congress to adopt legislation that would threaten such an outcome.

Tell Congress: adopt a Hippocratic Oath with respect to Iran diplomacy - do no harm.

The Senate wisely held off on new sanctions in advance of the last round of Iran negotiations, despite strong outside pressure. By doing so, the Senate allowed diplomacy to deliver concrete, historic results with the Geneva interim agreement. Today, Congress - the House and Senate - must support efforts to build on that success in order to achieve a final agreement with Iran. This means refraining from pursuing legislation that would impose new sanctions on Iran, dictate the terms of a final agreement, or otherwise tie the hands of U.S. negotiators.

Tell Congress: Reject initiatives that would recklessly undermine the Iran interim agreement and the chances for a final agreement.

The pressure has not been taken off Iran. Far-reaching sanctions will remain in place unless and until a final agreement is achieved and implemented. Acting now to pursue additional Iran sanctions or impose negotiating red lines risks eroding the fragile international consensus that is central to this existing Iran sanctions regime. Doing so will also discredit diplomacy, isolate the U.S., and undermine Iranian moderates - all while bolstering the conclusion that many in Congress are seeking regime change, not policy change, in Tehran. Such a conclusion could lead Iranian authorities to decide that crossing the red line and obtaining a nuclear weapon is necessary for deterrence and regime survival.

Tell your elected officials: Give Iran diplomacy time to work. Americans don't want another Middle East war.

Congressional efforts to undermine or constrain diplomacy will put the U.S. on the path to a war. Such a war is far more likely to guarantee, rather than prevent, a nuclear-armed Iran, and would likely have far-reaching negative consequences for the region and the world. Diplomacy is the only tool that has any chance of coming to grips with the Iranian nuclear challenge. The Geneva interim agreement demonstrates that sincere, determined diplomacy can deliver results. Any efforts to now derail or undermine the continued diplomatic effort that will be needed to get to a final agreement must be rejected.