During the 9 months of Secretary Kerry's efforts in the region, the Israeli Government promoted plans and tenders for at least 13,851 housing units in the settlements and East Jerusalem - an average of 50 units per day and 1,540 units per month.


The 13,851 units include:
Tenders for 4,868 units – 2,248 of them in West Bank settlements and 2,620 units in East Jerusalem. (The were also tenders for another 1,235 units in re-issued tenders, where the tenders are calls for bids to buy units that weren't sold in previous tenders).
Promotion of plans for 8,983 units – 6,561 of them in West Bank settlements and 2,422 in East Jerusalem.


The plans were in all West Bank areas:
Plans for 4,793 units in isolated settlements (73%)
Plans for 1,768 units in settlements closer to the Green Line (27%)

The average yearly number of tenders was 4 times higher compared to previous years: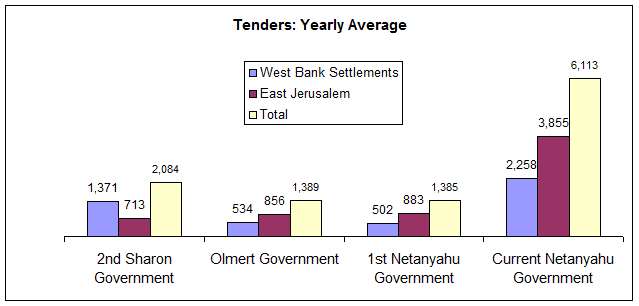 Doubling the number of construction Starts:

According to the Israeli CBS data, in the second half of year 2013, some 828 new units were started to be built in the settlements, while at the equivalent time in 2012, only 484 units started. (the CBS data does not include the first three months of 2014).

New Settlements and Outposts:
Two new outposts were established – the Brosh outpost at the Jordan Valley and Givat Eitam, south of Bethlehem.
A New settlement at the heart of the City of Hebron was established for the first time since the 80's.
Four outposts were legalized by promoting plans for them: Nahalei Tal and Zayit Ra'anan (near Ramallah), Givat Sal'it (in The Jordan Valley) and Elmatan (near Qalqilya).
A new settlement was founded, when 60 families moved in to live in the settlement of Leshem near Salfit.
In East Jerusalem – two big tourist projects in the Palestinian neighborhood of Silwan were promoted (the Kedem compound and the Spring House), and the National Park at the lands of Issawiya was approved.
In addition, the Ministry of Housing published tenders for preparing plans for 24,000 units in several settlements in the West Bank, including in E1. Following the publication by Peace Now, the tenders were cancelled.

Peace Now: Not only that the construction and the announcements of settlements were destructive for the American efforts and for the faith between the two sides, it also created facts on the ground that proved more than anything else that the Netanyahu Government did not mean to go for a two states solution but rather acted in order to strengthen the Israeli control over the Occupied Territories.



List of tenders and plans according to settlement:

| | | | | | |
| --- | --- | --- | --- | --- | --- |
| Units (Plans) | Settlement | | Units | Tender No. | Settlement |
| 60 | Alon Shvut | | 36 | 346/2012 | Beitar Illit |
| 48 | Beitar Illit | | 117 | 365/2012 | Ariel |
| 334 | Kfar Adumim | | 92 | 91/2013 | Ma'ale Adumim |
| 28 | Alfei Menashe | | 149 | 96/2013 | Efrat |
| 72 | Elkana | | 30 | 4/8/13 | Beit El |
| 494 | Givat Ze'ev | | 283 | 38/2013 | Elkana |
| 732 | Modiin Illit | | 2 | 39/2013 | Ma'ale Adumim |
| 37 | Elmatan | | 196 | 90/2013 | Karnei Shomron |
| 844 | Ariel | | 102 | 103/2013 | Givat Ze'ev |
| 27 | Beit Arye | | 18 | 162/2013 | Ariel |
| 160 | Yakir | | 80 | 252/2013 | Adam |
| 277 | Alei Zahav | | 112 | 274/2013 | Ma'ale Adumim |
| 694 | Leshem | | 238 | 275/2013 | Beitar Illit |
| 19 | Kiryat Netafim | | 1 | 302/2013 | Alfei Menashe |
| 22 | Karnei Shomron | | 1 | 303/2013 | Elkana |
| 31 | Almog | | 208 | יש/2014/1 | Efrat |
| 496 | Beit El | | 24 | יש/2/2014 | Beitar Illit |
| 90 | Bracha | | 102 | יש/3/2014 | Imanuel |
| 125 | Givat Sal'it | | 86 | יש/4/2014 | Karnei Shomron |
| 234 | Galgal | | 68 | יש/5/2014 | Alfei Menashe |
| 559 | Talmon | | 40 | יש/6/2014 | Ariel |
| 48 | Tene | | 75 | יש/9/2014 | Adam |
| 38 | Kochav Yaacov | | 19 | יש/10/2014 | Efrat |
| 230 | Maon | | 169 | יש/11/2014 | Elkana |
| 52 | Nokdim | | 160 | 82/2013 | Pisgat Ze'ev |
| 250 | Ofra | | 80 | 84/2013 | Har Homa |
| 65 | Shavei Shomron | | 130 | 85/2013 | Har Homa |
| 495 | Shilo | | 23 | 86/2013 | Pisgat Ze'ev |
| 6,561 | Total | | 397 | 108/2013 | Gilo |
| | | | 311 | 273/2013 | Gilo |
| | | | 387 | 293/2013 | Ramat Shlomo |
| | | | 182 | ים/7/2014 | Pisgat Ze'ev |
| | | | 294 | ים/8/2014 | Ramot |
| | | | 600 | ים/12/2014 | Ramat Shlomo |
| | | | 56 | ים/16/2014 | Neve Yaacov |
| | | | 4868 | | Total |