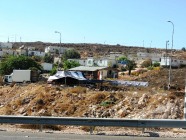 On November 19th, Peace Now reported that in Jerusalem, the High Court of Justice published its verdict regarding 6 outposts in the West Bank (Peace Now's "six outposts" case).
Peace Now stated:
"The verdict ordered the evacuation of all structures that are on private Palestinian land within six months. Additionally, the court ordered the state to provide an update in six months on its progress of legalizing the structures that are not on private Palestinian land.

"This ruling is decisive in its manner and criticism on the state and repeated its strict disapproval of building on private Palestinian land and the need to remove any structures on private land. The government requirement that the State provide an update on the process of legalizing the areas that are not on private Palestinian land is crucial.These outposts were built after 2001, and are thus part of Israel's commitment under the Road Map to be evacuated. Last May, the government updated the court on its intentions to legalize 4 of the 6 outposts. However no progress on the legalization could be seen, perhaps hoping to escape internal and international criticism.

"Now, while negotiations between Israel and the Palestinians are taking place, the government will have to progress, if it chooses to, in the legalization of all 6 outposts - a severe contradiction to its Road Map commitment."

The court's verdict can be found (in Hebrew) at http://elyon2.court.gov.il/files/07/910/078/S54/07078910.S54.pdf. Stay tuned for further analysis tomorrow.