Yesterday morning, as I always do, I began my morning with OJ and News Nosh. I read a terrifying interview by Maariv's Lior Dayan with extremist settlers of West Bank illegal outposts, and a sober essay by political scientist Revital Amiran, describing why the discussion in Israeli society about the soldier who shot dead the neutralized terrorist in Hebron is a watershed event. Neither article is available in English anywhere else.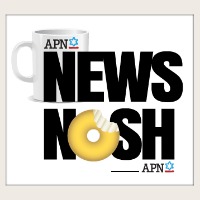 The day before that, I was outraged to learn that Israel had expropriated land from a Palestinian family and handed it over to Amana, the settlers' organization that establishes new West Bank settlements.
Every day, what I read in News Nosh helps me to stay informed about the infuriating aspects of the conflict as well as the difficult work of Israelis and Palestinians to resolve it. There is simply no other service that offers so much on the issues I care so deeply about – and it's free!
This daily news aggregator of the Hebrew press gives you not only the up-to-the-minute news, but also summaries of the top stories and analysis. You can surf the web for Israeli news sites, struggle with Hebrew and pop-up ads, or you can let APN do the work for you. All you need to do is sign up.
Thank you,
Mik Moore
Board member, Americans for Peace Now