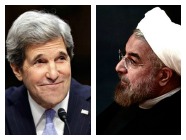 Update: this action, now closed, ran in December 2013.
Only weeks ago we welcomed the achievement in Geneva of an historic agreement with Iran. This interim agreement opens the door for a final agreement that resolves U.S. and international concerns about Iran's nuclear program and ambitions. Such an agreement holds the promise of a more secure and stable Middle East, as well as positive impacts outside the region.

Tell your Representative and Senators: support the Obama Administration's ongoing diplomacy with Iran.